Clearing Invasive Weeds at Makaihuwa'a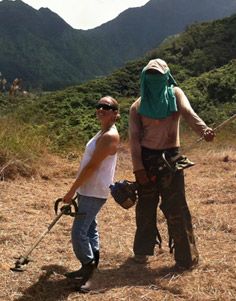 While preparing for full moon camping up at Makaihuwa'a (one of the ridges outlining the Waipa ahupua'a), two members of the Waipā 'ohana were recently caught on camera while clearing invasive weeds.
But who is the mystery weed whacker with Lea?
HINT: The shorter one is Lea 😉 and don't let the size of the mystery weed whacker's weed whacker fool you.
VISIT: https://www.facebook.com/Waipa.Ohana and leave us a comment with your guess. Hurry! The first person to correctly identify this mystery weed whacker will win a Waipā t-shirt!
Only guesses submitted via facebook count. We will acknowledge the winner here and on Facebook. Good luck!
UPDATE: It took only a few hours for one of our akamai 'ohana on Facebook to identify our garden manager, Kari. Lea flexed her photo editing skills by blending 2 different photo's taken that day.
Subscribe To Our Newsletter