Reforesting
Waipā

is a Community Effort!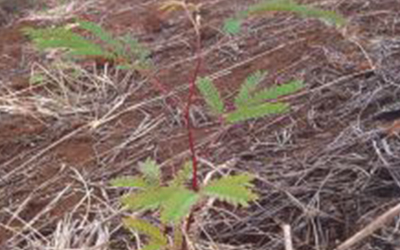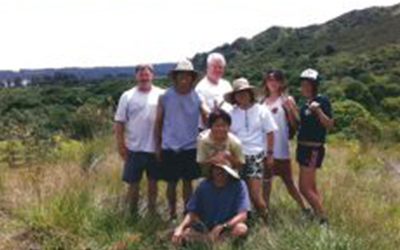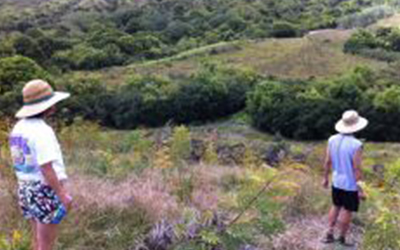 Just over a year ago, Waipa began expanding our reforestation plantings into a new site. This 1.3 acre area, on the south facing slope of Kuahua (the ridge which forms a boundary between the ahupua`a of Waipa and Waikoko), was cleared of non-native vegetation in early August, 2010.
Every year, for years now, on Admissions Day weekend in August, the Nakamura, Shiramizu, Loo-Marshall `ohana have come camping at Waipa, and their trip always includes a project to give back to the `aina. Last year, they became the first of many groups to begin planting this site, primarily with Koai`a, a native lowland Koa. A couple of weeks ago, this same group of families returned to camp once again, and we hiked up to check out the trees. In a year they had grown so that some of them were nearly five feet tall, the beginning of another native forest at Waipa! We had finished planting the site, so after giving our trees some good mana, we hiked back down and weeded the lo`i kalo.
Since that first planting in August 2010, through May of this year, numerous groups and individuals have contributed to the reforestation at this site. They include: Aunty Puna Kalama's Halau, Ms. Shelby Dabin's first grade class from Kanuikapono School, Peter Vitousek and Stanford University's Hawaii Field School, Earthday Rising, Doug Sears and the Grand Hyatt Po`ipu Management Team, Raleigh Fisher and his dad Jon, among many others.
In November of last year, a couple of us planted about 25 Koai`a trees right at the top of the planting site in honor of Uncle Gary Blaich, and indeed this has become a place for us to remember him, and his love of Waipa and the outdoors.
Mahalo to all of you, and the Waipa staff and `ohana who help to facilitate this work, we hope that in a few years, these trees will be thriving like those in some of our previous plantings, and we look forward to acres of beautiful native forests at Waipa in the decades to come.
A USDA-NRCS Wildlife Habitat Incentive Program contract helped to provide some funds for clearing and planting.
Subscribe To Our Newsletter