Waipā

is Now Under Construction!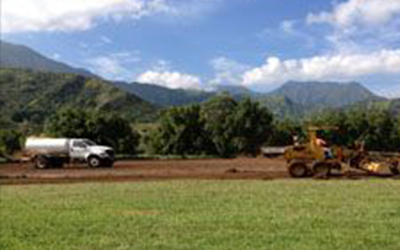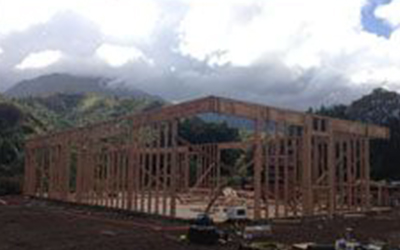 Anyone who has visited us since mid-September will have noticed there are some changes at Waipa, and a lot of activity going on in the big field. What kind of changes? Well, for starters, the big ironwood tree which used to provide shade for parking and for us to gather in piko is now gone. Drivers at Waipa now need to dodge black silt cloth and lots of stakes and flags. Activity and work is concentrated at the site where new buildings will be located, near the gardens.
All of this activity is due to construction starting on a Multipurpose Building that Kamehameha Schools is building for Waipa's use. After more than six years of design, funding allocation, and permitting, the work has finally started, and the facility is quickly taking shape. The building will provide Waipa Foundation staff and the thousands of learners that visit each year with a new space in support of educational programs and community gatherings.
After this first building is done, Waipa Foundation, will then begin construction on our new certified Community Kitchen, Poi Mill and Hale Imu (housed in two new buildings adjacent to the multipurpose building). Permitting for those new facilities is nearly complete, and in the next seven months we will need to raise the remaining funds for construction. We expect the next two buildings to take about a year more to construct, after which the kitchen and poi mill will be available for Waipa and community use. In addition to providing new opportunities for community entrepreneurs and new "food focused" educational and training programs, the certified kitchen and poi mill will also help us to bring Waipa's signature products to our Farmers Market, and other events celebrating local food!
So, if you visit Waipa anytime soon, please be sure to watch for the stakes, and don't park in the big field- park in the yard in front of our offices. We have already moved our Tuesday Farmers Market to the field by the Waipa Ranch, in front of our plant nursery. Kalo Festival parking will be at this location as well, and the festival is definitely a great reason to come visit!
Subscribe To Our Newsletter