Master Food Preserver Certification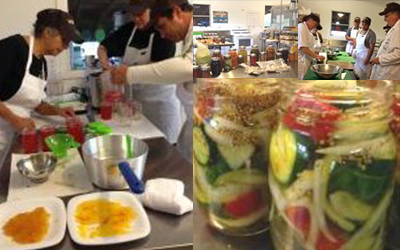 The first Hawaii Master Food Preserver course to be held on Kaua'i happened this past February at Waipā, and now, another one is tentatively scheduled for July.
The course is taught by Ken Love, Executive Director of the Hawai'i Tropical Fruit Growers and President of American Culinary Federation Kona Kohala Chefs Association. In February, the Waipā 'Ohana Kitchen became the classroom for 12 participants who spent 8 days learning various techniques and topics during the course.
Topics included food safety, knife skills, and work/flow in a professional setting. Using Kaua'i grown fruit and vegetables, participants learned how to make jellies, jams, marmalades, chutneys, marinara, and canning of carrots and beans. Cucumber tsukemono and sauerkraut were part of the fermentation and pickling section of the course.
Learning how to use a high-pressure steamer, the group preserved ahi and chicken. Chef Paul Heerlein from UH West Hawaii Community College taught sausage making and other styles of meat preparation. Dehydration, freezing, along with proper vacuum sealing was also covered.
Upon their successful completion of the final exam, participants received a certificate of completion certifying their new title as a Hawaii Master Food Preserver.
Another Master Food Preserver course is tentatively scheduled to occur at Waipa in July. For more information or to be put on the email list to receive notices about training opportunities and events, you can email us at waipaonline@waipafoundation.org.
Pictured from Top to Bottom:
Ken Love (front, right) instructs students, students practicing, finished products, close up of pickled cucumbers.
Subscribe To Our Newsletter