Hawaii Ocean Film Festival at
Waipā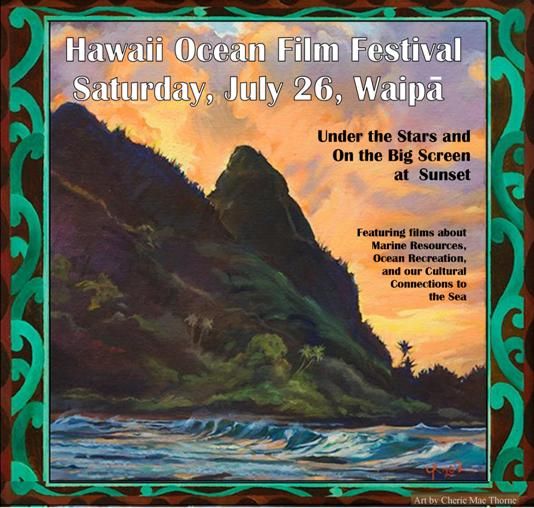 Join us at sunset on Saturday, July 26, to watch a selection of original productions under the stars and on the big screen at Waipa. The festival will begin with a short film tribute by Brady Cushway to Kauai's beloved ocean advocates Kathy and Bobo Ham Young, mother and son, who both passed this last year.
Other works to be shared are noted below. For a more complete description of the works, please visit the festival's Facebook Page.
A Surfrider trilogy: Rise Above Plastics, Pick Up Your Butts, and Surfrider Net Pickup on the efforts of the Kauai chapter.
STEM (Science, Technology, Engineering, Math ) about Surfrider's partnership with Kauai Community College,
Lightning Strikes Twice: NOAA's discovery of the wreck of the whaleship "Two Brothers," which sank in the remote northwestern Hawaiian Islands.
Spirit Of Aloha is a heart warming music video featuring a montage of clips inspired by the spirit of families involved in outrigger events.
Waverider by Gareth Davies is the story of a Fijian surfer the world had never heard of who won a wildcard entry into Volcom Fiji Pro, a World Championship.
Sea Fever is a haunting cinematic poem with music by Massive attack and surfing the cold dark slabs in the UK and Ireland.
Fish – I Africa The Indian Ocean is the second-largest tuna fishery in the world after the Pacific. The mostly foreign-flagged industrial tuna fleet nets yellowfin, bigeye and skipjack worth up to $US 2 billion annually. 1 in 4 fish that enter the market globally are illegal, unreported, unregulated by large industrial pirates. Seven Southeast African countries along the Western Indian Ocean, created an alliance that uses advanced tools and techniques to track vessels and stop illegal catch.
Subscribe To Our Newsletter