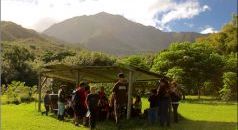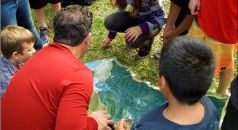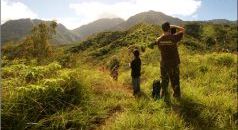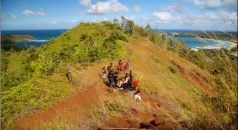 As we approach the end of 2014, we celebrate, with gratitude, the amazing natural beauty of this `aina of Waipā, of Kaua`i o Manokalanipo, of Hawai`i nei. The opportunity to malama this place, to work and learn, teach and share, and deepen our connections with `aina and community is a true gift, as are those beautiful, crisp, clear and cool winter days here on Kaua`i's north shore.
Friday, December 19th was one of those days. It was the last day of school before Christmas Break, and a perfect day for a field trip! Mr. Chris Skabo brought his 4th graders from Kilauea School on a visit to Waipa, as they had been studying the ahupua`a. After preparing for a big hike, and looking at a model of the Waipa ahupua`a, we set off on a walk past the lo`i, a young koa forest, and an exciting-and cool-stream crossing.
After a really steep climb, we reached Makaihuwa`a ridge, the site where our ancestors used torches to guide fishermen in their canoes back to shore after dark. After taking in the view, and discussing the mo`olelo of Makaihuwa`a, it was a quick hike down for lunch and then back to school.
While the rain helps to keep everything green and growing, we love those beautiful, sunny, cool, surf-filled winter days.
Happy New Year everybody!
Subscribe To Our Newsletter