What's hiding in
Waipā

's Pu'uhonua?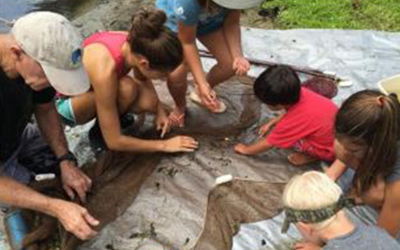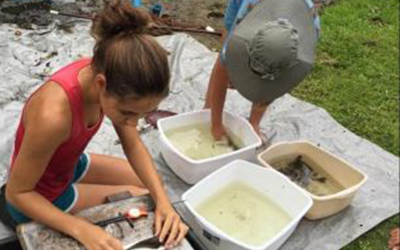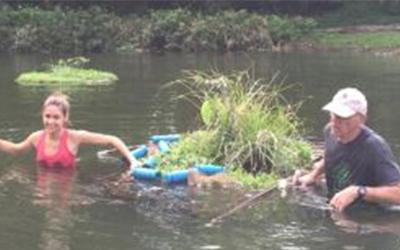 Ever wondered what's up with those floating rafts of plants in Waipā's Halulu Fishpond? Does anyone ever go out there and check on them? We call those rafts our Waipa "pu`uh?nua" because they provide a place of refuge for baby fish, shrimp and other creatures which might get eaten by predators in the deeper parts of the pond. Most of the pu`uhonua are planted with native plants and kalo, and two with the invasive Water Hyacinth, which were already in the pond, to create a clean mud-free habitat for creatures, and to see what kind of habitat they prefer. The plants are planted on top and their roots hang down through the coconut fiber mat providing habitat both above and below the water.
In April, Dr. Carl Berg and Wiley Barker, along with a few volunteer helpers, had some pu`uhonua hukilau to count, weigh, and measure the fish, shrimp, snails and tadpoles on the rafts. Carl and Wiley waded out into the stinky muck of the pond and put a seine net under each raft to capture whatever creatures were in, on, and around it. Then, they hauled the raft onto the bank and took photos of the top and bottom of the raft before shaking the creatures off onto a tarp. Helpers gathered up o`opu, opae, tadpoles and the odd frog, hapawai or `aholehole, and put them into containers of water before helping Wiley and Carl to measure, weigh, count and throw them back into the pond…except in the case of the tadpoles, since they are invasive.
The highest count of one species was over 300 tadpoles counted on just one raft. "The number and size of each species varies by season" says Carl, a biologist, "as well as who else is on the raft". "Just one big o`opu or bullfrog means there will be a lot less opae". The pu`uhonua project was Carl's idea, after creating the rafts for another purpose-to remove excess nutrients flowing from taro fields into Hanalei Bay. Waipā's pu'uhonua are funded by the US Fish and Wildlife Service Fish Habitat Restoration Project.
Project assistant Wiley Barker is a senior at Kapa`a High School and joined the project about a year and a half ago after visiting Waipā? with Kamehameha Schools Scholars Program. She is doing her senior project on the pu`uhonua.
If you love slimy creatures or recording data, volunteer helpers are welcome on the following dates at 2pm at Halulu Fishpond.
Friday 5/22
Friday 6/26
Friday 7/24
Call our office, 826.9969 for more info!
Subscribe To Our Newsletter