Waipā

's New Facilities are Almost Pau!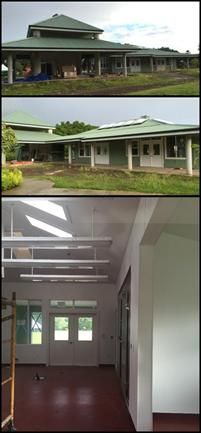 After a year of construction, the Waipā Poi Mill, Kitchen, and Hale Imu buildings are almost pau! Most of the construction is complete, and we are awaiting the installation of equipment. We look forward to opening these facilities for community use (and our own programs) in September.
The new facilities (pictured here) offer versatile spaces, fully equipped with commercial grade equipment, including a walk in refrigerator and freezer. The poi mill's kalo and poi processing includes cooking, grinding and bagging equipment with a cook capacity of 16 bags of kalo at a time. The hale imu is an open air space with a concrete and fire brick lined imu that can be covered when not in use so as to enable more space for outdoor gatherings.
We, at Waipā, hope that the availability of these facilities, and the classes, workshops and trainings that will soon be available, inspire entrepreneurs from the community to start, or grow food related businesses. To inquire about use of the facilities, call our office at 826-9969.
Subscribe To Our Newsletter