Music & Mango Festival Sunday 8/14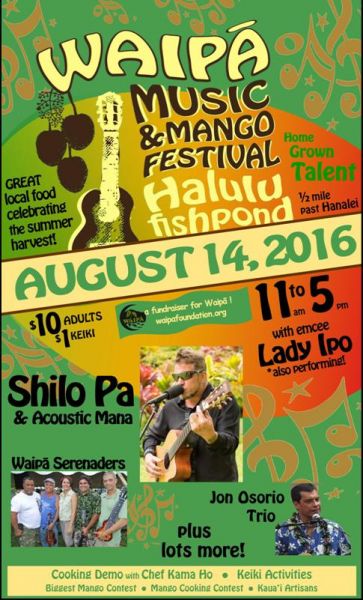 Join us at the
Waipa Music & Mango Festival
Sunday, August 14th, 2016
Enjoy a fun and relaxing day with us at beautiful Halulu Fishpond. Great musical line up including emcee Lady Ipo & Band, Jon Osorio Trio, the Waipa Serenaders and closing act, Shilo Pa & Acoustic Mana!
Local artisans and crafts, lots of great food featuring mangoes, a water slide for keiki and much more.. all right on Hanalei Bay!
Call Stacy at 639.1815 if you would like to help at the festival. We couldn't do it without all our wonderful volunteers, and there are lots of ways to help out!
A hui hou! Hope to see you at Waipa soon!
Subscribe To Our Newsletter